The Pont du Diable
The Pont du Diable, nestled 20 m high above the river, is a must-see when you explore Ardèche. Enjoy swimming and hiking in an idyllic setting !
Pont du Diable, a small bridge in an impressive landscape.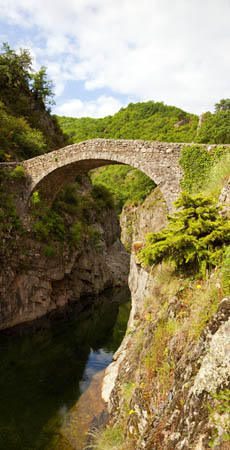 Situated near the village of Thueyts, in the heart of the Monts d'Ardèche Regional Natural Park, the Pont du Diable is less frightening than its name.
From this modest stone bridge you can admire the basalt flows and other surprisingly shaped limestone concretions.
Swimming and hiking at Le Pont du Diable
Le Pont du Diable is a famous swimming spot. The water is crystal clear, amazing blue-green, and the little beach is beautiful. Even if the water is a little cold, people appreciate this extraordinary part of the river.
Many are trying to jump: the Pont du Diable crosses the river 20 metres above the water. Jumping from the Pont du Diable is a real challenge for many adventurous swimmers .
Do not try to jump without precaution, accidents unfortunately happen.
Ladders attached to the rock offer an access to this prodigious place. A hiking trail leads you, from the Pont du Diable, to splendid landscapes, between waterfalls and basalt flows.
Legend of the Pont du Diable
The Pont du Diable was built, according to legend, by the Devil who maliciously wanted to allow the boys and girls of Thueyts to find each other. Girls have lost their souls there and on windy days, you can hear the laments of the young girls.
According to the legend, the Devil was not satisfied with his power over the Devil's Bridge, he extended it to the abyss and the rock.
Thueyts, village of character
Le Pont du Diable is near the very attractive village of Thueyts. A typical village, with a beautiful and preserved architectural heritage.